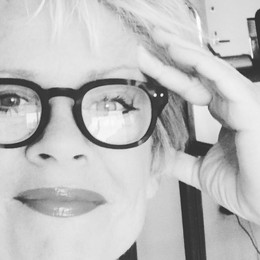 As a young woman I attended the University of Tennessee to obtain a BA in Studio Art and Communication Design. Although I loved it, I was advised not to rely on my art to pay the rent. As a single mom with two young daughters to raise, I returned to school and graduated first with a BA in Psychology and then received a scholarship to attend Vanderbilt where I graduated with a Masters Degree in Psychiatric Nursing. Moving to LA in 1997 it has taken 20 years and the stress of a national election to move me to create large paintings again. Out of desperation, I quite literally attacked 25 blank canvases with all I had creating The First 25 for my first solo show in Studio City.
Through this experience I have found my voice again and a desire to finally put art first in my life after the undeniable truth that it is ART that allows me to express my feelings, has given me a healthy alternative to self-destructive behaviors and a pure joy that was somehow still inside. In one year I have painted approximately 75-80 large paintings. My hope is that I can exhibit this body of work and that I can continue painting and obtain grants to teach others this simple but powerful coping mechanism with an outcome that is more potent than any conventional therapy.
These paintings are all about expressive freedom of the gestural marks. They are liberating and yet harmonic. I source the finest and purest pigments available. I am learning to create my own from natural elements, minerals, insects, flowers, vegetable matter and animal glues. I prepare and grind my own paint from globally sourced pure dry pigments giving them a special depth, brilliance and beauty sometimes requiring days of experimenting to acquire the exact color and viscosity. Strokes and marks are made quickly but deliberately resulting in the very embodiment of a fleeting moment of joy and excitement.
My influences are Joan Mitchell, Lee Krasner, Helen Frankenthaler and other artists from the Abstract Expressionist movement that began just after WWII in NYC, New England and the West Coast to some extent.
Painting
Janet Wise is originally from East Tennessee living and working in Los Angeles since 1997. From an early age she began using drawing as an effective way to communicate her thoughts and relate to the world. After actively pursuing formal art training throughout her later teens, she went on to study studio art and communication design at the University of Tennessee. Classes in figure drawing and abstract expressionism set the trajectory for a style built on around beauty of line and color; art for art's sake. Since then, she has developed a style that blends aestheticism and abstract expressionism to create large scale canvases with expressive strokes, decadent color combinations patterns and symbols giving each piece a dynamic feel. Known for her use of pure pigment powders blended into paints, texture and unique compositions – she combines an array of mediums including raw pigments blended with oil or acrylic or watercolor mediums.
"What brought me to the richness of paints and colors was something that always flowed alongside my life... through my young adult years when I was raising children and continued even when I returned to school in my mid-thirties to pursue a very different career. It was simply always beside me like a brightly colored thread. Often this thread would weave its way through my subconscious with visions of color combinations that would emerge strongest during times of great joy and deepest sorrows. If I paid attention they rewarded me as they came to life on canvas. This was especially important in the year of 2017 when coping with stress was more important than ever before. I painted approximately 50 canvases in the first half of the year and another 30 or so in the first half of 2018 with no signs of slowing down. Painting with energy on canvases, papers and boards have brought extreme joy back into my world."
JanetWiseArts@gmail.com
All my work and images are copyright protected.
Education:
University of Tennessee, BA
Vanderbilt University, Masters Degree in Nursing
Workshops:
Castle Hill at Truro, MA
Selected Events:
INTRO LA/Studio City: Solo Show May 2017 - April 2018
Larrabee Music Studios/Exhibition May 2018-current
RAW Artists DTLA : April 2018
eChina Cash, Beijing: Current
El Segundo Art Walk 2018
Workshop Enoteca Restaurant, El Segundo: Current
Nude Art L.A.: September 8th 2018
Clio Art Fair , NYC October 11-14 2018
---